This somewhat bold idea was born in 2015, as the vision aiming at setting Dubrovnik in motion. Originally, the event had a motto "More than a race" and a very simple goal - to promote sports and healthy lifestyle, all within the spectacular setting of ancient Dubrovnik, a UNESCO's World Heritage Site.
Thanks to the dedication, enthusiasm and joined efforts of Dubrovnik Sports Federation, The City of Dubrovnik and The Dubrovnik Tourist Board, Dubrovnik's Half Marathon really became "more than a race". Over a very short period, it has transformed into the full-fledged international multi-day sports and recreational event with as much as four races - Dubrovnik Half Marathon, 5K Charity Race, Run The Wall and Kids' Race. The event includes the accompanying events such as Du Motion Runners' Corner - gathering place for runners and exhibitors - and Du Motion Chat - a series of talks by prominent lecturers from the world of running.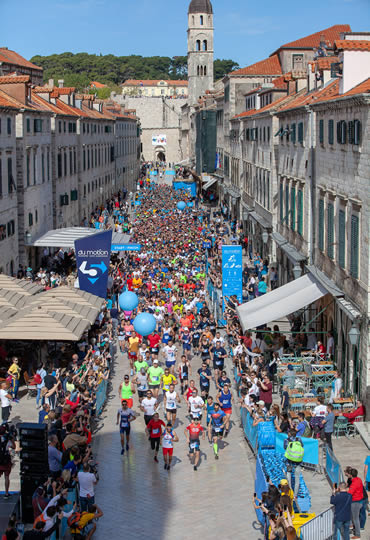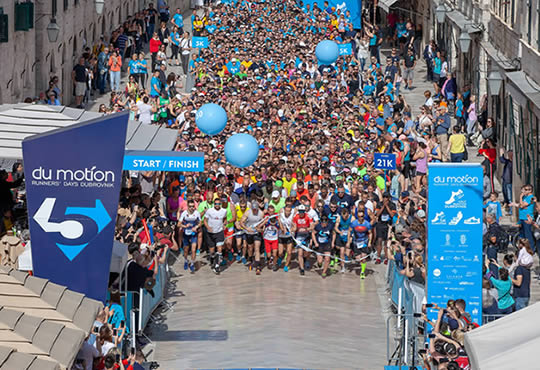 "To praise too much is not good, but those who run in Dubrovnik know – one can hardly overpraise when it comes to Du Motion. Kudos for the beautiful city with its big soul!"
Zvonimir Mikašek, 3sporta.com
Race Packages
Run and

have fun!
We are offering the unique Du Motion experience via runners' packages whose worth exceeds the registration fee!
Check them out!
21K Basic Package
A medal to die for, a t-shirt you will love to wear, tickets for many beautiful Dubrovnik sights …these are just some of many perks that await you in our 21K basic package.
21K Vip Package
VIP treatment? Oh yes, with our VIP Package you will definitely feel like a very important person. Check the perks list, register and start counting. The experience of a lifetime awaits you!
Run the Wall Package
Running the Dubrovnik City Walls is an experience you will surely want to brag about. That's why we have prepared you a package full of wonderful perks to show tour family and friends back home.
5K Runner' Package
To run our 5K race is an unique experience! We want you to remember that moment so we have prepared a nice t-shirt and a beautiful medal to take home with you.
5K Supporters' Package
You don't run? No problem! You can join our 5K race as a supporter. We have prepared special supporters' kit, so join us at Stradun and don't forget to cheer as loudly as you can!
du motion
Awards
The awards always make us happy, but also oblige us to move forward.
Here are some that we are particularly proud of…
Du Motion's director Alen Bošković was named The Director of the Year at the International Race Directors Conference, held during The Portland Marathon. The award explanation stated Du Motion is an exemplary demonstration of a successful organization and cooperation with the entire local community and international partners.
European Athletics, the governing body for athletics in Europe in charge of setting the safety and road race quality standards, awarded Dubrovnik Half Marathon with maximum 5 stars for the race quality. It's the biggest recognition a race can get, to which end it must meet as much as 54 different criteria concerning quality, safety, organization, ecology, mass, international participation and more.
Sister cities Dubrovnik and Monterey won the first Sister Cities International award for cooperation in the preparation and organization of Du Motion, within the category "Innovation: Economic Development" including the cities with less than 100,000 inhabitants.
UHPA – the umbrella association of Croatian travel agencies and the specialised travel magazine Way to Croatia awarded Du Motion with "Simply the best" traditional annual award for quality, creativity and innovation in tourism, as well as for contribution to the development of the tourism destination in the Events – Sport and recreation category.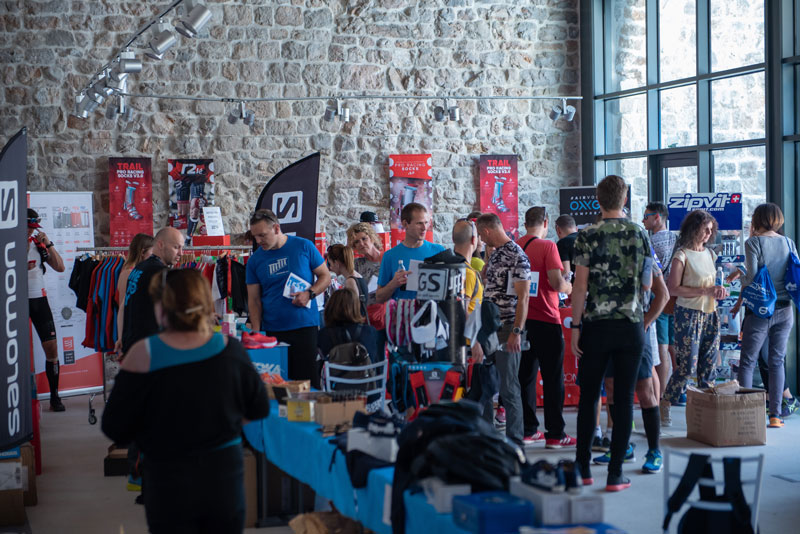 Du Motion
Runners' Corner
Meeting and relaxation zone. The Club which gathers all DU MOTION runners.
In the shadow of thick and impressive walls of Lazareti, a medieval quarantine that once guarded Dubrovnikers from diseases, Du Motion Runners' Corner found its home. The must-see, a point of meeting of all the runners, where one can regularly hear various world's languages. Runners come here to meet their fellow competitors, exchange useful advices, boast with their running mileage, while having a look at the excellent choice of sporting goods and equipment, as well as tourism and travel offers.
Where?
Lazareti,
Frana Supila 8,
20 000 Dubrovnik
When?
Thursday, 25. 04. 2024., 15 – 19h
Friday, 26. 04. 2024., 10 – 19h
Saturday, 27. 04. 2024., 10 – 19h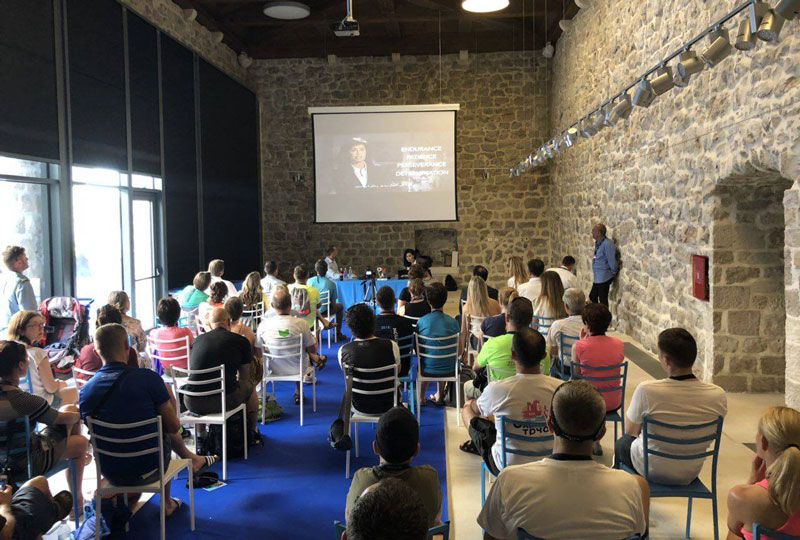 Du Motion
Chat
When we're not running… we talk about running.
In 2018, Du Motion introduced a new series of guest lectures by prominent figures from the world of running, capable of changing perspectives, empowering individuals and proving that running is not just an industry, but a movement. The premier "Du Motion Chat" was opened by the legendary May El-Khalil, the founder of the Beirut Marathon, not only the biggest running event in the Middle East but also a powerful peacekeeping force.
Where?
Lazareti,
Frana Supila 8,
20 000 Dubrovnik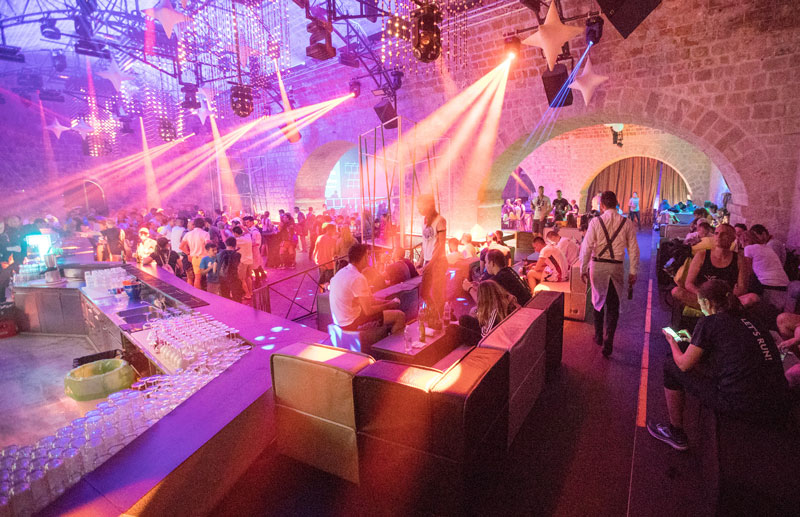 Du Motion
Party
Because all the great moments in life...deserve the great party!
Congratulations! Finishing the race is a great accomplishment, but where to go after the finish line? Off to famous Revelin Club to the Du Motion farewell party! It is the final point of our running journey where runners proudly show their medals and curiously compare their sport results. This is a place where we exchange hugs and greetings, until the next meeting.
Where?
Culture Club Revelin,
Ul. Svetog Dominika 3
20 000 Dubrovnik
When?
Sunday, 28. 04. 2024., 01pm
We use cookies to ensure you get the best experience on our website.
Learn More...
Decline
Accept